Back in November 2014, I asked if you'd read a new, darker series by me about a death investigator. Death investigators are in charge of the body at a murder and the police handle the crime scene. Before I took that big, risky move, I asked what you thought.

You answered. Some 1,046 of you took the survey. More than 75% said you'd read the new death investigator series. Almost half said you'd prefer it.

Thanks to you, I wrote Brain Storm, the first Angela Richman death investigator mystery, and my agent sold it to Thomas & Mercer. August 2, Brain Storm will be published as a trade paperback, an e-book, and an audio book.

Brain Storm is a psychological suspense novel based on my own fight to survive six strokes, a coma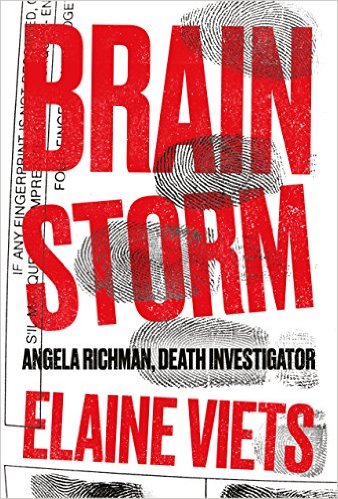 and brain surgery. Death investigator Angela Richman works in ultrawealthy Chouteau Forest, Mo. Devastating migraines send her to the ER, but she's misdiagnosed by the resident neurologist, Dr. Porter Gravois and sent back home. Angela has six strokes and needs brain surgery. She's saved by a brash, brilliant surgeon, Dr. Jeb Travis Tritt. She wakes up from a coma, drug-addled and hallucinating. While she's in the hospital, the doctor who misdiagnosed her is murdered and the surgeon who saved her is arrested. Angela doesn't believe Dr. Tritt killed his hated rival, but can she trust her instincts? Thanks to the strokes, she may never recover her investigative skills. Angela is determined to save the man who saved her.

Brain Storm has dark humor, but it's not as gruesome as Patricia Cornwell's mysteries. It's closer to Kathy Reichs's Tempe Brennan mysteries.

To return to the dark side, I took the Medicolegal Death Investigators Training Course for forensic professionals, given by St. Louis University's School of Medicine, which gave me the latest forensics. Janet Rudolph at Mystery Readers International says this may be the only series featuring a death investigator.

Publishers Weekly says, "Angela's endearing, spirited, and resilient humanity resonates on the page. Viets takes an entertaining detour from her usual cozy territory... "

Check out Brain Storm's first chapter on elaineviets.com.

Pre-order Brain Storm on Amazon and save!

Brain Storm previews at the ThrillerFest XI conference at the Grand Hyatt Hotel, New York City, July 8-9.

Friday, July 8, from 12:20 to 1:10 p.m., I'm on the ThrillerFest panel "Cardiologist, Neurologist or Proctologist? Ask Your Medical Questions" moderated by Thriller School Director Dr. DP Lyle. Other panelists include thriller writer Caleb James (Dr. Charles Atkins, a board certified psychiatrist), neurologist Frederick Thomas Strobl, whose "Greek Flu" was an ITW finalist, Dr. Carrie Rubin, John Benedict and Mark Rubenstein.

I'm signing Brain Storm at ThrillerFest XI, three weeks early, Friday, July 8, from 1:10 to1:40 p.m. Copies will be available at the ThrillerFest bookstore in the Grand Hyatt Hotel, New York City.

In South Florida, I sign Brain Storm Friday, August 5, 7:00 p.m. at Murder on the Beach Bookstore, 273 NE 2nd Ave., Delray Beach. Can't make the signing? Order your copy and have it shipped. Email: murdermb@gate.net

I've wanted to write this mystery for so long. Thank you for helping me make this decision.